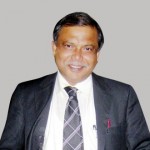 Mr. Acharyya is a renowned food technologist with specialization in meat and poultry product technologies. He has more than 33 years of all-round experience in the field of meat and poultry processing (including further processing for ready to eat products).  
He has implemented number of reputed projects related to  processing of Poultry, Sheep and Goat, Buffalo, Pig and Emu bird. 
Mr.Acharyya has contributed in leadership positions for numerous companies like Al – Hamd Agro Food Products Pvt. Ltd, Alchemist Ltd, PRS Technologies Pvt. Ltd, Sumangalam International Pvt Ltd etc. He is also credited for his contribution to public sector funded pioneer Meat Factory of Central Dairy Farm, Aligarh, India.