Organizational Profile: Vet Helpline India Pvt Ltd is a 19-year-old development consulting company. The company helps organizations conduct studies and implement development projects linked to animal health care, animal welfare, livestock development, food safety, and public health.
We are trying to address the development management related challenges in the field of veterinary service delivery and livestock development through multi-disciplinary team building. As an organic organization, targeting only a niche segment of development consultancy, our venture has given a virtual platform to agriculture, social science, communication, information technology, human health, environment, and food sector experts to contribute beyond their organizational boundaries. This has helped the sharing of the experts' hitherto hidden perspective and institutional knowledge. Private institutions facilitating multidisciplinary team building are unique in the field of veterinary and livestock development in India. There is also limited general recognition at the field level of the need to engage with stakeholders beyond the veterinary profession for effective disease risk-management and communication focusing on system approach rather than firefighting. Our nineteen years of experience and critical expertise in development planning, M&E, project management, capacity building, animal disease risk management, and livestock value chain development is instrumental in facilitating new team building with every funded project and bringing out the best out of our team. Our focus is always to excel in fostering collaboration between various stakeholders who may not be accustomed to working together. Our research and development activities related to public policy in veterinary service and livestock sector development acknowledge transdisciplinarity as an approach and aims at aptly integrating veterinary science with social science for sustainable development.
The network, experiences, and goodwill of the last several years have helped us position ourselves as a credible and emerging resource point for outsourcing animal health, welfare,  livestock development, and public health-related action research and development activities.
The key client of the company includes organizations like UNCTAD, IFC of The World Bank Group, ILRI, FAO of UN, GALVmed, Government of Assam, ASCI, etc.

The company specializes in 'Management of Veterinary Services,' 'Animal Disease Risk Management,'' Value Chain Analysis ( Farm to Fork ),' 'Enterprise Development,' 'Knowledge Management' and 'M&E of development projects.' In the year 2003, the company on mission mode (2003-2013) supported the establishment of FARMER (an acronym for Fellowship for Agri Resource Management and Entrepreneurship Research) – a northeast India focused non-profit network of multidisciplinary professionals.
Registration: The company, was incorporated in the year 2000 under the Indian Companies Act -1956 ( Refer Corporate Identification Number ( CIN): U85200AS2000PTC006298 )
Click Here to check the company master data and filing status at the website of Ministry of Corporate Affairs, Government of India.
Click the following link to download Certificate of Incorporation, Registrar of Companies, Shillong, Meghalaya, India VetHelplineIndia_Certificate_of_Incorporation
Board of Directors: Following are members of the company's Board of Directors:
Dr.Miftahul Islam Barbaruah  ( Director Information Number -DIN  of Ministry of Company Affairs, GOI: 00158647)
Dr.Miftahul is a veterinarian and development management consultant by profession.
Mr.Mubinul Islam Barbaruah ( Director Information Number -DIN – of Ministry of Company Affairs, GOI: 00158640)
Mr. Mubinul is a businessman, documentary filmmaker, and wild-life enthusiast.
Ms. Fateha Haque Barbaruah ( Director Information Number -DIN of Ministry of Company Affairs, GOI: 00158657 )
Ms. Fateha is a teacher of English literature and a freelance editor
Ms. Shahnaz Hussain (Director Information Number -DIN  of Ministry of Company Affairs, GOI: 01789430
Ms. Shahnaz is an eminent educationist with a specialization in early childhood care.
Click Here to check Director Master Data, Ministry of Corporate Affairs, Government of India.
Technical and managerial capabilities
The company has implemented several value chain studies, capacity development programs, enterprise support programs and projects related to planning, organizational development, monitoring and evaluation of institutions, specific programs/policies related to livestock sector development.
National governments, international agencies, and private sector enterprises are funding our projects. The company has the track record of managerial competencies needed to network, mobilize resources (including partners), to engage with stakeholders and to communicate with clients/beneficiaries.
Geographical Experience:
As an organization, we have geographic experience of implementing projects in three South Asian countries viz. India, Bangladesh, and Nepal.
The Service Profile:
The following artwork is showing the service profile of the company:
Management of Veterinary Service Delivery
We conduct action researches and work with development agencies, producer companies, or cooperatives for Veterinary / Livestock service delivery focusing on institutional development, herd health, and community approach of problem-solving.
Animal Disease Risk Management and Food Safety
We provide consultancy to state and national level agencies in participatory risk assessment, policy analysis, and development of communication strategy. We also work with companies, farmer and trader organizations to assist them in Business Continuity Management in the context of disasters and uncertainties.
Livestock Value Chain Analysis
We conduct value chain analysis both to suggest ways for value chain up-gradation and to assist government agencies for people-centered risk-based control of animal diseases.
Enterprise, Cluster, and Skill development:
We assist government and non-government actors in agro-livestock cluster development, project design, capacity building of enterprises, and implementation of designed business development services.
We assist institutions in conducting in-house training, implement appropriate technologies, publish e-books, mobile applications, social videos, e-learning courses, etc. aimed at improving the professional competency of animal health workers, animal / organizational productivity and quality of veterinary / livestock services.
Monitoring and Evaluation of projects
We provide consultancy for monitoring and evaluation of projects and policies primarily focusing at livestock and allied sectors.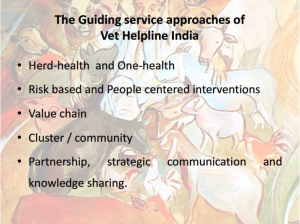 The core business and years in business The core business of the company is development consultancy focusing on 'Management of Veterinary Services,' 'Animal Disease Risk Management," Value Chain Analysis,' 'Enterprise Development,' 'Knowledge Management' and 'M&E of development projects.' The company was established in the year 2000 and has been active in the field of consultancy for the last 19 years.
Employee Profile and policy for ensuring continuity of professional services:
We have only one full-time director who is primarily an integrator in contrast to other specialists and generalists working for the company as honorary and retainer consultants. Once considered for a project, we ensure legal agreement with consultants on mutually agreed deliverables with the timeline and described quality standards of outputs. Review of documented previous personal associations amongst the consultants and a pre-assessment of possible group dynamics are some of the factors that are taken into account while forming the team for an assignment. These arrangments to date have been ensuring the minimum inconvenience due to mid-project replacement of consultants. Being a registered limited liability company, the board of directors is responsible for successful execution/continuity of service as per contract.
Membership of industry organizations: We are an active member of :
Confederation of Indian Industries (CII) – Assam Chapter
Standard policies to ensure quality interaction with clients ( External and Internal ) and outputs:
We represent a small organic organization targeting only a niche segment of development consultancy. Quality of project output and goodwill of our client organizations is our prime asset. Since we operate in an organic mode, there is no written standard policies, procedures, practices to ensure quality interaction with clients, and output. As an organization, we generally do not take multiple assignments at the same time, and preference is always given for short term, relatively low budget projects. This strategy is primarily due to the organic structure and nominal availability of full-time administrative support. The scope of innovation ( including testing of new knowledge ), the reputation of the client, geographical spread, and impact of the project,  are a few crucial elements that determine our selection of projects. Since we are consciously targeting and positioning ourselves as niche consulting firm for short term -low budget projects and timely completion of a project is linked to new opportunities and incentive for the entire team, we are very focused on delivering quality output within the agreed timeframe. We do not have any standard social protection practices. However, we do negotiate with external clients for personal security and wellbeing of our consultants when they are required to implement projects in sensitive areas.