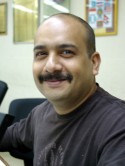 Dr.Barbaruah is a young Veterinarian and a trained development facilitator. Following his graduation in Veterinary Science and Animal Husbandry from Assam Agricultural University, he has attended postgraduate and executive programs at prestigious schools like Tezpur University (MBA), Asian Institute of Management , Manila ( Master in Development Management ); Indian Institute of Management –Calcutta ( EDP on Managerial Excellence ), National Institute of Rural Development ( EDP on Livestock Enterprise Management ) etc.
Dr. Barbaruah has nineteen years of experience with expertise in development planning, project management, capacity building, animal disease risk management, and agri-livestock value chain development.
Dr.Barbaruah is an 'integrator' (in contrast to generalist and specialist) who understands multiple specialties and how they impact each other. His focus is to excel in fostering collaboration between various stakeholders who may not be accustomed to working together, like the government, private sector, and civil society. Dr.Barbaruah's research activities acknowledge transdisciplinarity as approach and aptly integrates veterinary science, animal husbandry with social science for sustainable development.
He played key role in implementing various development and action research projects funded by organizations like United Nations Conference on Trade and Development (UNCTAD), IFC-SEDF of the World Bank Group, International Livestock Research Institute (ILRI), FAO of UN, Global Alliance for Livestock Veterinary Medicine ( GALVmed), Agriculture Skill Council of India(ASCI), Department of Animal Husbandry and Veterinary of Government of Assam etc.
As a promoter director of Vet Helpline (India) Pvt.Ltd, he received the Indian Association for Advancement of Veterinary Research award -2002 for Information Technology Application in Veterinary Service Delivery.
Dr.Barbaruah have contributed to various organization which includes OIE – The World Organization for Animal Health ( As member of Adhoc expert group related to veterinary para-professionals ), Ministry of Agriculture, Government of India (As consultant for Monitoring of National Agricultural Development Program ), Government of Assam ( As Hon. Member Secretary of State Task Force for Dairy Policy Formulation ), International Livestock Research Institute ( as Consultant ), Confederation of Indian Industries ( As member of Assam state council ), National Innovation Foundation –India ( As Consultant – Scouting and Business Development ), American Soybean Association ( As Consultant – Feed Team ), etc.
Dr.Barbaruah has acted as a coordinator in conducting number national level seminars, stakeholders' consultations, and workshops. He has contributed in publication of a number of project related scientific papers, articles on contemporary issues and training manuals. He was  recognized in the media for contributing to society.
orcid.org/0000-0001-8816-9510
Contact: miftahul.barbaruah@vethelplineindia.co.in or drbarbaruah@gmail.com