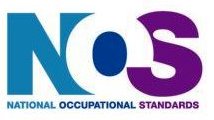 National Occupational Standard (NOS) describes what individuals need to do, know and understand to carry out a job role or function.
A set of such standard, aligned to a job role, is called Qualification Pack (QP). Agriculture Skill Council of India is the nodal organization who is entrusted with the responsibility of developing NOSs and QPs related to Veterinary and Animal Husbandry sector in India. The developed standards are based on needs of the nation and industry.
The key stages in the development of NOS are shown in the following figure.
In India, there is a positive labor market demand for skilled supervisory workforce in veterinary and Animal Husbandry sector. Skill workers in Animal Husbandry sector are also migrating to foreign countries.
Veterinarians in India play important role in training and skill development within the Animal Husbandry sector. Agriculture Skill Council of India (ASCI) provide scope for interested veterinarians to attend Train the Trainer (TTT) programs to become certified trainers.
This webpage aims at giving visitors a single point access to developed standards related to Veterinary and Animal Husbandry Sector in India.
You can refer to following presentation to understand more about changing space of skill training with the advent of NOS in the context of Veterinary and Animal Husbandry:
PPT_ParadigmShiftinSkillTraining_ForVets
To learn more about National Skill Qualification Framework (NSQF) Level description indicated in NOS documents you can download:
List of developed Veterinary and Animal Husbandry related NOS
Courtesy:
Qualification Packs in Services sector:
Artificial Insemination Technician
Chick Sexing and Grading Technician
Poultry feed, food safety and  labeling supervisor
Qualification Packs in Farming sector:
Qualification Packs in Milk procurement and processing:
Village Level Milk Collection Center In-charge
Comments
comments